Join us for
Is the Obama-Trump Expansion Ending?
Consumer Confidence versus Business Investing
December 10th,
7:30am-9:00am,
Shisler Conference Center
Register HERE
---
Ohio State University Professor of Economic Development Professor Ned Hill returns to Wayne County to review the economic performance of the past year and provides his perspectives on 2020. The only thing we know for sure is that surprises happen and the forecast will not be 20-20 when we think about it next year. The economic expansion that followed the Great Recession is the longest in post-war American history and the U.S. consumer is powering our economy. At the same time, investment by the business sector has fallen short of expectations, Europe is heading towards recession, China's growth rate is slowing, and the trade skirmish of spring 2018 turned into the trade war of 2019. How will the U.S. economy perform in the coming Presidential election year? Hill will review the data and provide an evidenced-based view of the state of Ohio's economy.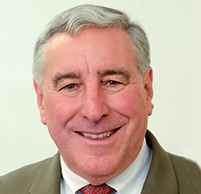 Edward [Ned] Hill is Professor of Economic Development at The Ohio State University's John Glenn College of Public Affairs and the section on City and Regional Planning. He is also a member of the College of Engineering's Ohio Manufacturing Institute. Ned came to OSU after serving as Dean of the Maxine Goodman Levin College of Urban Affairs at Cleveland State University and Professor and Distinguished Scholar of Economic Development.His latest book, Coping with Adversity:Regional Economic Resilience and Public Policy,was published by Cornell University Press in 2017.He was the editor ofEconomic Development Quarterlyand Chair of the Advisory Board of NIST's Hollings Manufacturing Extension Partnership. Ned is currently a member of MAGNET's Board of Directors. MAGNET is the Ohio MEP's affiliate in Northeast Ohio. The Ohio Manufacturers Association's Board of Directors presented Hill with the Legacy Award in 2005 and again in 2016 for his work on behalf of Ohio's manufacturers. Ned earned his Ph.D. in both urban and regional planning and economics from MIT.
Ned teaches the doctoral seminar in public economics in the Glenn College as well as economic development and state and local public policy at both the Glenn College and in OSU's City and Regional Planning program. He also teaches the Glenn College's undergraduate introductory course in public affairs.
Ned's blog, A One-Handed Economist, and can be found at: http://nedhillonehandedeconomist.com
*Breakfast will be included*